STUDENT FILM AWARDS: 2018 WINNERS ANNOUNCED
02 July 2018
The winners of the 2018 BAFTA Student Film Awards presented by Global Student Accommodation (GSA) were announced in a gala ceremony and presentation at the Theatre at Ace Hotel in downtown Los Angeles.
The BAFTA Student Film Award for Animation presented by LAIKA was awarded to Beth David and Esteban Bravo from Ringling College of Art and Design for In a Heartbeat. The BAFTA Student Film Award for Documentary was awarded to Lindsey Parietti from the University of the West of England, U.K. for Blood Island. The BAFTA Student Film Award for Live Action was awarded to Kevin Wilson Jr. from New York University for My Nephew Emmett.
The Special Jury Prize was presented to Lucia Bulgheroni from National Film and Television School, U.K. for Inanimate.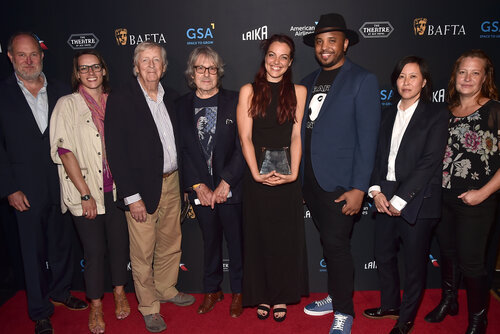 Getty Images for BAFTA LA
The panel of industry luminaries included Amy Adrion (Half the Picture), Jen McGowan (Kelly & Cal, Rust Creek), Justin Simien (Dear White People), Jon Turteltaub(National Treasure, Cool Runnings), Kim Yutani (Director of Programming for the Sundance Film Festival) and writing duo Dick Clement and Ian LaFrenais (The Commitments, Flushed Away).
Following the international expansion of the Awards in 2017, this year's nine finalists were selected from 469 submissions by students at film schools in 35 countries across the world, including Argentina, Austria, Belgium, Canada, China, Egypt, Germany, India, Israel, Kenya, Lebanon, Russia, Switzerland, and the United Kingdom.
The Student Film Awards are a global BAFTA initiative, and a key component to BAFTA's year round commitment to discovering and supporting new talent and career starters, whatever their background, race or gender.
The BAFTA Student Film Awards competition is part of the organization's growing international footprint, which seeks to foster strong talent connections across the U.K., U.S, Asia and beyond. The initiative also includes a curated season of events, seminars and meetings for the finalists, as well as year-round access to educational programming across the US and UK.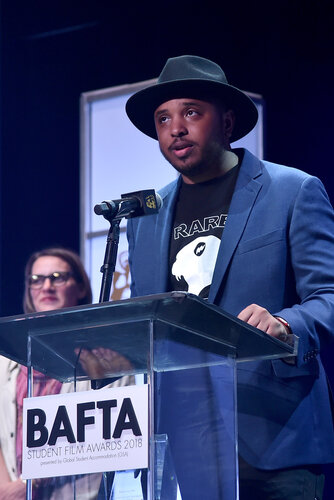 Getty Images for BAFTA LA
"I was really blown away. It was quite exciting to hear and see all of these stories that you traditionally don't get to see all at once," said Special Jury member Justin Simien. "I think that these programs really speak to a marvellous future in filmmaking. If I get to look forward to these people being the ones who are bringing the new stories, it's an exciting future. We are hearing women's voices, voices from people of color and voices from different kinds of sexuality. If we can have that sort of breadth of filmmaking in stories every year at the box office, that would be a dream come true."
"The program was filled with surprises and I liked the combination of animation, live action and documentary. I felt like it took the viewer on a real ride," added Special Jury member Kim Yutani.
"Making a film is an amazing journey. What I learned most is that you have to trust yourself, because when you do that, it is actually when you start to be satisfied by yourself and make great things," said Special Jury Prize winner Lucia Bulgheroni.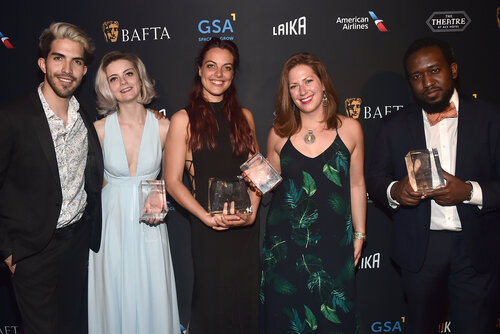 Getty Images for BAFTA LA
The Student Film Awards also furthers BAFTA Los Angeles' work within its Access for All campaign, a commitment to ensuring that talented individuals are offered a clear pathway to careers in the entertainment industry, uninhibited by background, demographics or personal circumstance. The campaign will drive funds towards BAFTA Los Angeles' acclaimed scholarship, education and community initiatives, allowing the organization to discover, support and nurture talented professionals.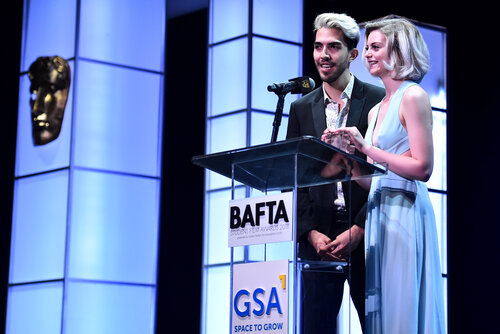 Getty Images for BAFTA LA
For the first time this year, Global Student Accommodation (GSA) Group sponsored the Student Film Awards. Animation studio LAIKA continued as the official sponsor of the BAFTA Student Film Award for Animation. The event was also supported through the generosity of our friends at American Airlines, Kind and The Farm LA.